GOC #3
Gauge One Collector
March, 1997 For the Serious 1/32 Scale Enthusiast #3
Nuremberg Toy Fair Report 1997
"The Gauge One Collector" is published by:

Gallery of Transportation
8340 NW 74th Avenue
Miami, Florida 33166
305-863-3220 Fax 305-863-3213

Visit us at http://galtran.com

This Issue:
Welcome to the third issue of GOC! The GOC will continue to try to keep you abreast of "what's happening" in Ga 1 (1/32) world wide. With this issue, we bring you news from the Nuremberg Toy Fair held this February. While many Ga 1 manufacturers display at the Fair, many do not. We try to stay in constant touch with these manufacturers too, so we will tell you what we have found.
So sit back and enjoy the newsletter. Please write, call or fax me (Bill Box) at the Gallery, address above, with your 1/32 scale wants, desires and opinions. I will send a copy of GOC to all 1/32 manufacturers.
The Toy Fair
There are two events each year that allow the collector to see for himself what the new offerings will be. First, there is the Nuremberg Toy Fair. Held each February, this show caters to the larger manufacturer or importer, such as Fulgurex, Fine Art Models, Lemaco, etc. But, a few of the smaller firms were there. too, including Wilgro, Dingler, etc. Second, there is the Shensheim show held in June of every year. This is a more intimate show, specializing exclusively in Ga 1. Large and small firms display here. This is where you can meet the Jürgen Benecken's, and Rudolf Walthers of the Ga 1 community. I enjoy both shows. I love their similarities as well as their differences.
The name "Toy Fair" is a little misleading. Yes, there are toys there (boy, are there toys!). There is also the largest display of Christmas decorations I've ever seen, too. And painting and drawing supplies, also. The show is not just toys as we may think of it, but also, includes many crafts and hobbies. So, here's what was shown this year:
Gary Kohs showed his latest: The 200 ton crane car. It was spectacular. The crane was controlled by what looked to me to be a digital command system with the commands transmitted through the rails, not radio controlled as previously reported in these pages. The superstructure can swing around, the boom raise and lower, and each of the two big hooks can be independently controlled. The wire cables are not simulated, they are miniature wire rope! Every time there is a movement, you can open an access door and see the little steam engine in the superstructure operating complete with sound. And if that weren't enough, the crane can move forward and backward under its own power just as the full size crane can do! Fine Art Models is making a plate girder bridge in sections, loaded on two flat cars so you can actually assemble it using the crane and the scale sling provided! FAM has two versions: a North American version with couplers and a European version with buffers. Contact them as soon as possible. In our last conversation, Gary said that he may sell out the run at the show.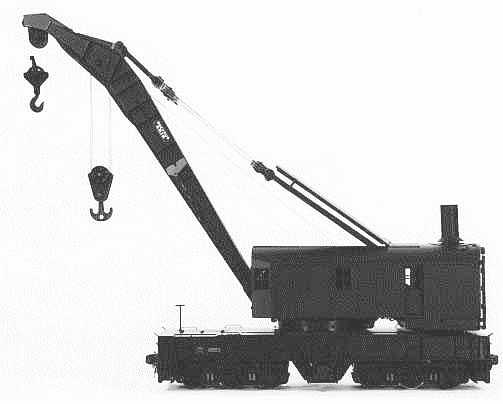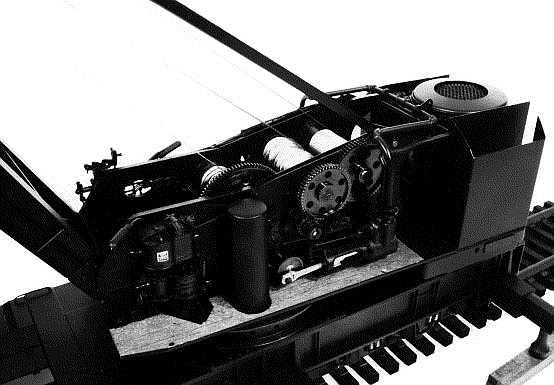 Also on display were two lightweight Pullman passenger cars that we talked about in GOC #2. One from the PRR Broadway and the other from the NYC 20th Century. All the cars in this set are now being shipped. Check on availability if you want a set, they are almost sold out. Sets with "optional cars" are sold out.
Reservations are being accepted for the UP Big Boy, the Pennsylvania Railroad's I-1 decapod 2-10-0, New York Central Hudson in regular and streamlined versions. FAM's next European effort will be the elegant BR 03 in both streamlined and unstreamlined versions. Stay tuned for details.
The Gallery of Transportation is a display agent, not a dealer, of FAM. We will assist the customer to the extent the customer desires at no charge to the customer or FAM. Fine Art Models is known for their quality, fidelity to detail, and value.
Markscheffel & Lennartz
Christian Lennartz was showing the DB BR 38 4-6-0 now being delivered to customers. The run of about 30 pieces is fully subscribed. Like all of M&L's locos, it's stunning.
Christian also had a partially completed production model BR 44 2-10-0. This will be offered in four versions: DR, DB (West German) oil, DB coal, and French SNCF 150 X. Delivery will start about December 1997. This run of about 30 pieces may be sold out also. Call the Gallery and we will check. After the BR 44 run, they will be making the BR 78 4-6-4 tank passenger engine in DRG/DR/DB and pr. T18/wurt. T18 versions. M&L will make 30 locos in total, so, it is not too early to make your reservation.
M&L is continuing the BR 01 Pacific's series. I asked Christian if he will make my personal favorite: the streamlined BR 01. He answered yes, but, it will not be for another two years or so. Call for your reservation.
M&L is known for their quality and extreme level of detail. The Gallery is a dealer for M&L, so, if you wish to reserve any of the above pieces, receive pricing information, or require additional information, please contact us.
Fulgurex
Fulgurex has a few of its Swiss Ae 8/14 electric locomotives in stock. It is very well made by FM and nicely detailed. Certainly up to the Fulgurex standard. Daniel Ingold showed us the Aster Sterling single. This is a very nice locomotive. It is bigger than I thought, about the size of a 4-4-0. It will be available only in live steam - no electric models. The little single was pulling a rake of handsome coaches made by J&M Models.
He showed the Aster BR 62 the "small BR 01". It is a 4-6-4 tank locomotive that is offered in both electric and live steam versions.
Aster's next locomotive will be the BR 03 4-6-2 in electric and live steam. Reservations have just begun to be taken. I believe that the unstreamlined version will be the only version offered.
Now for my favorite! Daniel said that the firm is thinking about making the SBB Ce 6/8 Type I. This was the immediate precursor to the types II and III, the "crocodiles". Type II versions have been made by Bockholt and Fine Art Models while the type III was made by Lemaco. If Fulgurex makes the type I, all the major versions of this series will have been produced. I told Daniel to let me know as soon as reservations are opened.
The Gallery is a Fulgurex dealer. Contact us for more information.
Lemaco
Deliveries on the BR 06 began in January. I think that the black/red DRG BR 06 4-8-4 is fully subscribed or nearly so. The green/red version made in cooperation with Markscheffel and Lennartz is completely booked. This is a big engine! Can you imagine it on display next to the FAM streamlined BR 03 and the M&L streamlined BR 01? The only other thing one could want would be the Bockholt BR 05!
If you wish to receive Lemaco's DR 243 or its variations, you should reserve soon. This will probably be quite popular once delivered in its many variations. Look for it in mid 1997 for DM 11,500.
They say that the SBB Re 4/ 4 ll (two pantograph version) should be here in 1997 and they have begun to accept reservations at DM 11,000 each. I would expect that these engines will be as popular as the recent Ae 6/6 and Re 6/6 models, that is they may be sold out as soon as they are delivered.
Reservations are now being taken on the DR BR 132 (red), DB BR 232 (red), and DB AG BR 234 (green) diesel locomotive series. These are scheduled for a 1997/1998 delivery.
Lemaco is now accepting reservations for the classic SBB freight locomotive - the Ae 4/7. These locos are being retired by the SBB and only a few remain in service. The sight of a pair double-headed at the lead of as freight train will soon be a nostalgic memory. Reservations are now being taken.
Reservations for the SNCF 241P 4-8-2 in three versions are encouraged at this time with 1998 arrival date.
We had a pleasant surprise when Urs Egger informed us that Lemaco will make a model of the new DB AG BR 101 electric in red. If you would like a model of the very latest in locomotive technology, send us your reservation.
Almost obscured by the small text in the drawing of the 241 P model in Lemaco's program was a stunner. They are planning to produce the SNCF 141P, and the PLM/SNCF 241 A and D models! Delivery would be anyone's guess, but, 1999 seems likely to me. Lemaco has told us that we can begin taking reservations in February 1998.
And passenger cars, too! SBB and BLS EW IV Personenwagen in both 1. and 2. class will arrive in 1997 costing DM 3,750.
Passenger cars in planning, but, with unspecified delivery dates are the SBB 1. and 2. class Leichstahlwagen (local service), SBB Apm Bpm Eurocity coaches, SBB Panorama Wagen, DB IC Grossraumwagen, Abteilwagen and Speisewagen.
Lemaco's locomotives are made by Samhongsa, a quality builder. The Gallery is a Lemaco dealer.
Kiss
Kiss Modellbahnen certainly surprised me when they announced that the TEE VT 11 5 was currently in production! Projected delivery would be this summer, perhaps by the Sinsheim show. This is the model of the TEE double-ended diesel powered unit train. Typical consist would be the two loco units and five cars.
Prices for the components were as follows:
Loco (2 needed) DM7,500 each
Grossraumwagen (regular coach) DM2,900
Abteilwagen (compartment coach) DM2,600
Barwagen (bar car) DM2,900
Kuchenwagen (kitchen/buffet car) DM2,900
All brass construction
They had their production "O" scale model of the TEE on display. It looked great. No more than 50 sets of the Ga 1 models will be made.
The Kiss people have decided not to make the BR 64 as previously reported. The BR 64 is similar in many aspects to the BR 24 which Dingler in now making. (See Dingler below.) They are also currently re-evaluating making the E 10 series.
Kiss also had their usual complement of high quality freight and passenger cars on display. See GOC #2 for more details or call the Gallery.
Like to assemble kits? Love the challenge or want to save a little money? Kiss offers most of their freight cars as kits as well as assembled and painted. They are all brass and require the builder to solder the entire kit together. When built properly, the are fantastic. I am thinking about buying a few to sell at the Gallery. Kit prices run about US$1,000. Any opinions?
Gerard
Gerard had a display showing their line of brass castings including Ga 1 pieces. They also make a the tiny Pt 2/3 (2-4-0 tank) in all brass. It was not on display, but, is available. You can order it in kit form, if you wish. If ordered completed, it is available in either green or black. This is a fine, delicate looking model priced at DM 5,900. Gerard showed their resin model of the German E 44 type loco. This model looks good. All the running gear is brass and steel. It is available either built up or in kit form. You craftsmen out there can have a fine looking model that you build yourself. Assembled, the price is DM 3,625 or DM 2,900 for the kit.
Dingler
Dingler has released their BR 24, a little 2-6-0 mogul type. It has already received rave reviews from the model press. We talked to a Dingler representative about the loco. He said that some castings and subassemblies were made in Korea, then shipped to Germany for assembly, installation of the mechanism and painting. I have not seen the official price yet, but, I think that it is in the DM10,000 to 12,000 range. Total production will not exceed 50 pieces. This is a good value and a high quality piece.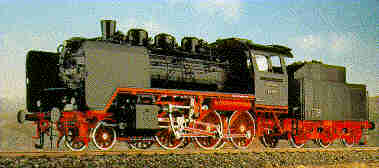 They also intend to make the BR 64 after the BR 24 run. These locos share many common parts. Now is the time to reserve the BR 64 and place your order for the BR 24. A total of 50 pieces, maximum, of each of the two locos will be made.
Spring
Felix Spring showed his tribute to the 150th anniversary of Swiss Railways by demonstrating his firm's Swiss Spanisch-Brotli-Bahn 1/3 Steam Loco and its seven passenger cars. The loco model is electrically powered. This is quite an attractive train and historic as well. It is priced at Sfr14,000 for the set.
Introduced at the show was the Swiss Maffei C 4/5 2-8-0. Felix said that his firm will also make the German Br 56 8-11, KBaySt C 4/5H, Etat and CFB versions. Both live steam and electric models will be available. Price has yet to be established.
Their SBB Eb 3/5 (Sfr 12,300) and the B 3/4 (Sfr 13,800) live steamers were also on display.
Spring has a reputation for making live steam locos that are well detailed as well as good steamers. The compromises that are required to made a scaled down line steam locomotive work well in its reduced size have been kept to a minimum.
Benecken Modelbau
Jürgen Benecken did not display at the Fair, but, I met him as he looked at the exhibits. This time Jürgen showed me his picture portfolio of his work. He is currently working on two complete ICE trains on special order. These are very involved and Jürgen said that he will not make many more. He also offers a DB E 120 (DM 2,950), DB E 103 (DM 2,950), and a DB V 221 (DM 1,650) diesel model. I have seen these and they are very, very nicely detailed. All have cab interiors and run well. Jürgen's work is very unconventional, but, highly effective. He makes locos and passenger cars in resin and fiberglass. The prototypes have smooth lines and are rather plain, perfect to be reproduced by Jürgen's construction methods.
Jürgen has a few items that are not listed in his program. For example, he makes an E 44 based on the Kesselbauer kit, but, built with many added parts to Jürgen's usual high standard. He also makes a model of the E 40. Who knew?
Jürgen's models make a good first model for the serious collector. They are reasonably priced, look great, run well, and many of his subjects have never been made by other makers. And don't forget his passenger cars!
Karet
Karet showed their line of German freight cars made from brass that are beautifully detailed. These include flat cars with stakes, hopper cars and some modern cars. Prices range from DM 4,140 to 7,350. Again, they are beautiful.
Hegob
This little company makes mostly freight cars, primarily of German prototypes. But, this time they showed a complete line of European style track, too. Very nice stuff. Their catalog shows many lost wax brass freight car parts. First class. Like Kiss, Hegob not only sell assembled cars, but also, kits. They must be among the finest freight car kits ever offered.
Besig
Besig has a great line of German signals. They are made of brass to a very high quality level. If you have a European layout, diorama, or just want to add a wonderful detail to your display base, this is the company to spruce things up. They also have a small 4-wheel industrial diesel switcher that is very nicely done. The price is DM1,887.
J&M
J & M has a line of coaches to complement the new Aster Sterling Single. They look really good behind the little single. J&M said that they do not stock the US heavyweights, but, they will make them on special order. My impression is that they will add extra detail, ball bearings, and probably special paint schemes if the customer wishes. They still offer their extensive line of European style passenger cars. If you wish to collect one of the few remaining E 18 and E 19 electric locos, time is running out, only a few are left. Some paint schemes are gone. They are offering discounts on the remaining stocks that are very attractive. Talk to the Gallery.
Hubner
This company is noted for their track and turnouts in both Ga 1 and the narrow gauge Ga 1e. They have a complete line in both gauges and have a very high quality level. The Gallery can order direct. Call us for details. Hubner has a line of Ga 1e locos, too. Great quality, of course. They are a little out of the Gallery's main area, but, we will find out everything you need if you are interested. Contact us.
Wilgro
This firm is owned by Wilfred Gross and he seems to be the main driving force behind it. He makes a model of the E 103, BR 50 decapod and a couple of others. They are all brass and steel and seem to be especially robust for good operation. I hope that Wilfred is at the Sinsheim Show so that I can talk to him in more detail.
Other Happenings

Bockholt
Bockholt as usual, did not display at the Fair, but, their program remains on schedule. They are now making the V 200 diesel loco of the DR. They will make only 20 or so pieces. They will make a few models painted in Polish colors, and some in Czech livery, too, I think. (LATE BREAKING NEWS --- They are now being delivered!) Then they will make in order, the BR 65, a 2-8-4 tank passenger loco by the end of 1997, the BR 132 diesel of the DR, the BR 18 3 (Wurttemb C) 4-6-2 pacific, and the E 44 electric passenger locomotive.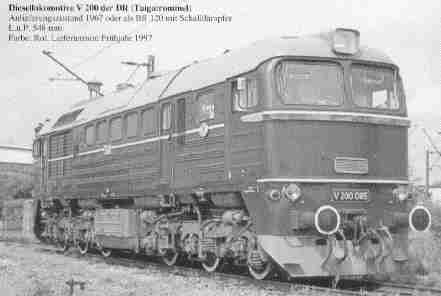 V 200
If you want any of these fine Bockholt locomotives, please reserve as soon as possible. Many Bockholt runs are sold out when built.
Finescale Locomotive Company
It is in the last phases if production of the "Duke of Gloucester" pacific 4-6-2. 100 pieces will be made and at the current exchange rates, the price is about $6800 plus duty and shipping - a bargain. Also included is a very nice glass case and wood base. If you want this model, time is running out on you! All serious collectors know that fine British Ga 1 models are very uncommon.
This summer the "Britannia" class pacific will begin delivery. Detail will be consistent with (or even a little better than) the "Duke", that is to say extremely well done. Neil Rose says that there will be several names available besides "Britannia" just like the prototype. Neil is trying to decide what follows the "Britannia". He is thinking of a West Country pacific or (hold on to your hats!) a USRA light mikado 2-8-2. The mike might be made in electric as well as live steam - a first for FSLC. If you want to share your opinion on this subject, contact us at the Gallery. We'll make sure that Neil hears you.
FSLC continues to make their line of L.M.S., G.N.R., G.W.R., and British Railways passenger cars. They are all brass, including the roof, well detailed, including a full interior and hand lettered. Reasonable, too. A typical car costs 650 pounds (maybe $1,000 US) with the most expensive, the G.W.R. dining car "super saloon" costing 950 pounds. We have a set (dare I say rake?) of these cars on display at the Gallery and they are marvelous.
The Gallery is a display agent of Finescale Locomotive Company, not a dealer. We will assist the customer in every way possible, of course.
Row and Company
They are selling their UP Big Boy. This model is made by Samhongsa and it is very, very nice. It is available in several versions including "as built" and "as retired". It is a great companion of the Challenger that was released before the Big Boy. For you collectors, these two locos and the Samhongsa UP FEF-3 4-8-4 imported by Garden Railways make for a fine display of modern UP power. Order your Big Boy and work with the Gallery on finding the Challenger and FEF-3.
Wendell Row is thinking of making an ABA set of the ALCO PA/PB passenger engines. Many consider these units to be the most beautiful diesels ever made. Several road names will be available. I hope that Wendell decides to pursue this project. If you reserve your set now, perhaps we can sway him to take the plunge. The Gallery is a Row and Company dealer.
American Standard Car Company
You may remember ASCC (Ralph Brown) for his extensive line of resin O scale car kits. Ralph sold is O scale line to join us in the "Gauge of Kings". (or is it the "King of Gauges"? My German translation may be rough!) Ralph is custom building a line of Ga 1 heavyweight North American prototype passenger cars using similar materials that have proved themselves for so many years in O scale. He already has a catalog that must have at least 40 types of Pullman made cars. He is providing them completely built , painted, and with full interior! They are good looking, too! Prices have not been finalized, but, the fully decked out models should be in the $1,200 to 1500 range.
If you like lightweight cars, Ralph is beginning to produce smooth sided cars at this time, too. They will be built to the same standards as the heavyweight cars. Now you can have a passenger car behind the Samhongsa F-3/7 diesels and the other modern locos. Ralph will build practically any lightweight car to any road name. Just ask.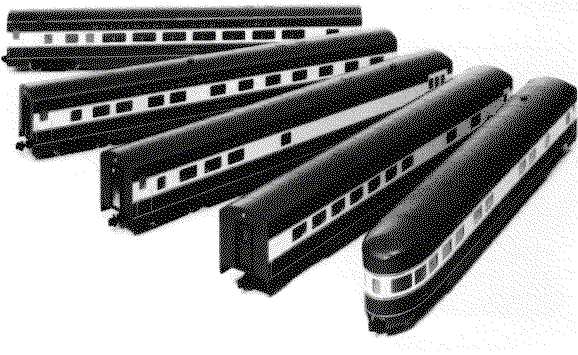 The Gallery is a dealer of American Standard Car Company.
Bloch & Preiswerk
Remember the hinged Re 6/6 rumor from GOC #2? I understand that the project is alive and well, but, behind schedule. The exclusive distributor is reluctant to announce the project until delivery is certain.
Renzo Dottori
He continues on his quest of making the finest models ever made of the "Orient Express". The run of restaurant cars is complete and Renzo is concentrating on one of the Pullman cars. The examples that I have seen are almost beyond words and defy description. I think that Renzo will win his quest. See GOC #2 for a few photos or contact us at the Gallery. These cars are more than special.
Allow me to repeat from GOC #2:
"Every detail is there, including ceiling decoration, fantastic interior detail, and even a few passengers realistically painted by a miniatures artist. Each wood part of the car is made from teak and other exotic woods with a special manufacturing technique that assures that the woods remain straight and true. Renzo is also an accomplished model loco builder in brass. He says that working in brass is simple compared to working in wood, using his technique. He spends an average of 500 hours on each model!!! He will make the entire train of five cars over the next several years. The Gallery will have one restaurant car for sale in August. Cost: US$11,500 as the dollar stands now.
After the cars are issued, Renzo plans to build the Austrian 4-4-0 that often pulled the Express through this alpine country. He says that it will be made in brass ("Easy" says Renzo) and built to the same level as the cars. This one will be special too!"
The Gallery is proud to be the exclusive American dealer for Mr. Dottori. Please contact us for reservations and pricing.
The Gallery needs:
Fine Art Models GG-1 #4800 "Rivets"
Bockholt BR 05 (all versions)
Markscheffel & Lennartz BR 41 and 52
Aster Big Boy in live steam
Aster Bay 2/6 in electric
Christian Marduit 141R (Didn't know about this one? Many think that it is the finest Ga 1 model ever built. Only eight were made. See "Your opinion is requested" below.)
Any Attilio Mari model ( You will have to wait for the book. You don't know what you are missing.)
If you have any of the above for sale, please contact the Gallery.

Did you know that...
... Fine Art Models also makes ultra-detailed flat cars with loads? Did you know that FAM also makes boats, autos, and airplanes to the same standards as their gauge one models? Give us a call.
... today is the "Golden Age" of Gauge one?
... the Gallery of Transportation has more Ga 1 1/32 scale locomotives and cars on display for sale than any firm in the world?
...the Gallery buys and sells discretely and in confidence, single pieces or entire collections?
Your opinion is requested!!!
I have been thinking that one of the problems of collecting in Ga 1 is that no one - and I mean no one - really knows what models have been made, variations, number built, dates, etc. I am starting to assemble a list ( I have passed the 200 mark!) and I may even edit a book documenting these facts and showing as many documentation photos as possible. I like the idea, but, do you? Please let me know.
Next issue: I have no idea when the next issue will be published. Sound familiar? I said the same thing in GOC #2. Well it's true. The Ga 1 scene tends to change right before a big show. And that's Sinsheim in June 1997. You will read about the latest Ga 1 news and events, of course! If you are experiencing the dread "Gauge One withdrawal syndrome", contact the Gallery for your late breaking fix. We are in constant contact with all the major manufacturers.
The Gallery of Transportation would like to thank you for your support. Feel free to copy this newsletter and give it to a fellow collector. Call or fax if the Gallery can be of assistance.
Return to Home Page